30/11/2021
Posted by:

admin-iisg

Category:

International event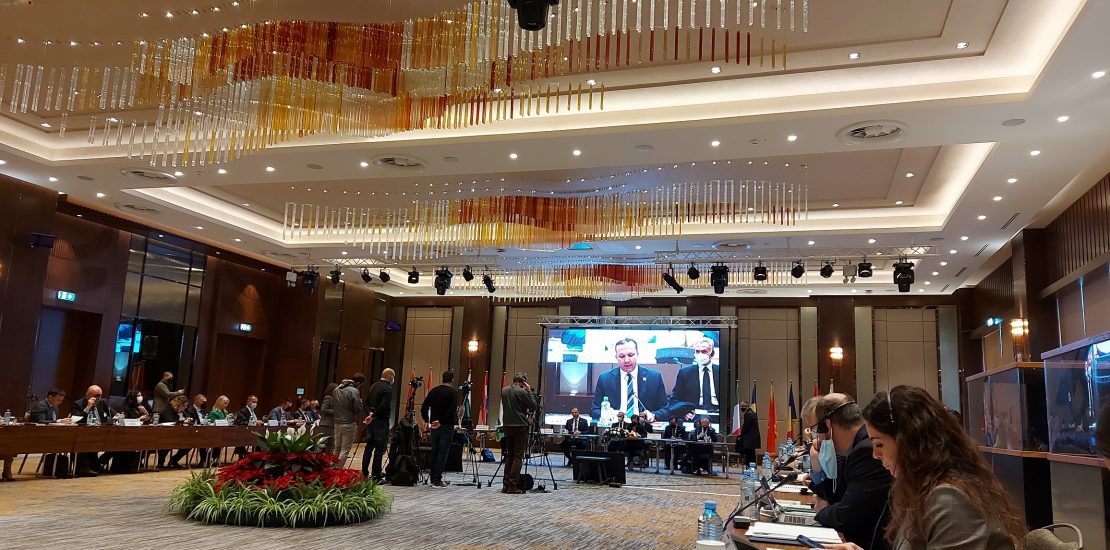 Upon invitation of the PCC SEE Chairmanship-in-Office of the Republic of North Macedonia and the PCC SEE Secretariat, the IISG Secretariat was invited to the 22nd PCC SEE Committee of Ministers, which was held in Skopje, Republic of North Macedonia, on 30 November 2021. The IISG Secretariat was represented by Mr. Agron Sojati, the IISG Head of Secretariat (HoS), and Ms. Maja Pinjo Talevska, Senior expert/Deputy Head of IISG Secretariat.
The meeting was opened by H.E. Oliver Spasovski, Minister of Interior of North Macedonia, welcoming all participants and laying down the topic of the meeting's agenda. The opening remarks were joined by Mr. Karl Lesjak, Head of PCC SEE Secretariat.
Official representatives from the twelve Contracting Parties reviewed the latest developments in the implementation of the PCC SEE and the EU Prüm-inspired framework for automated exchange of DNA, dactyloscopic and vehicle registration data and addressed issues of mutual interest and priority. Furthermore, enhancement of cross-border cooperation related to illegal immigration and return of foreign terrorist fighters has been discussed.
Additionally, the meeting served as an occasion in which Hungary, the Republic of North Macedonia and Romania have signed the Protocol amending the Agreement between the Parties to the Police Cooperation Convention for Southeast Europe on the automated exchange of DNA data, dactyloscopic data and vehicle registration data, which was an important step to end the pending infringement proceedings launched by the European Commission against four EU Member States, in order for all 9 Signatories to use the Agreement in practice.