Conference on Countering Serious Crime in the Western Balkans project 29-30 May 2023, Rome

Conference on Countering Serious Crime in the Western Balkans project 29-30 May 2023, Rome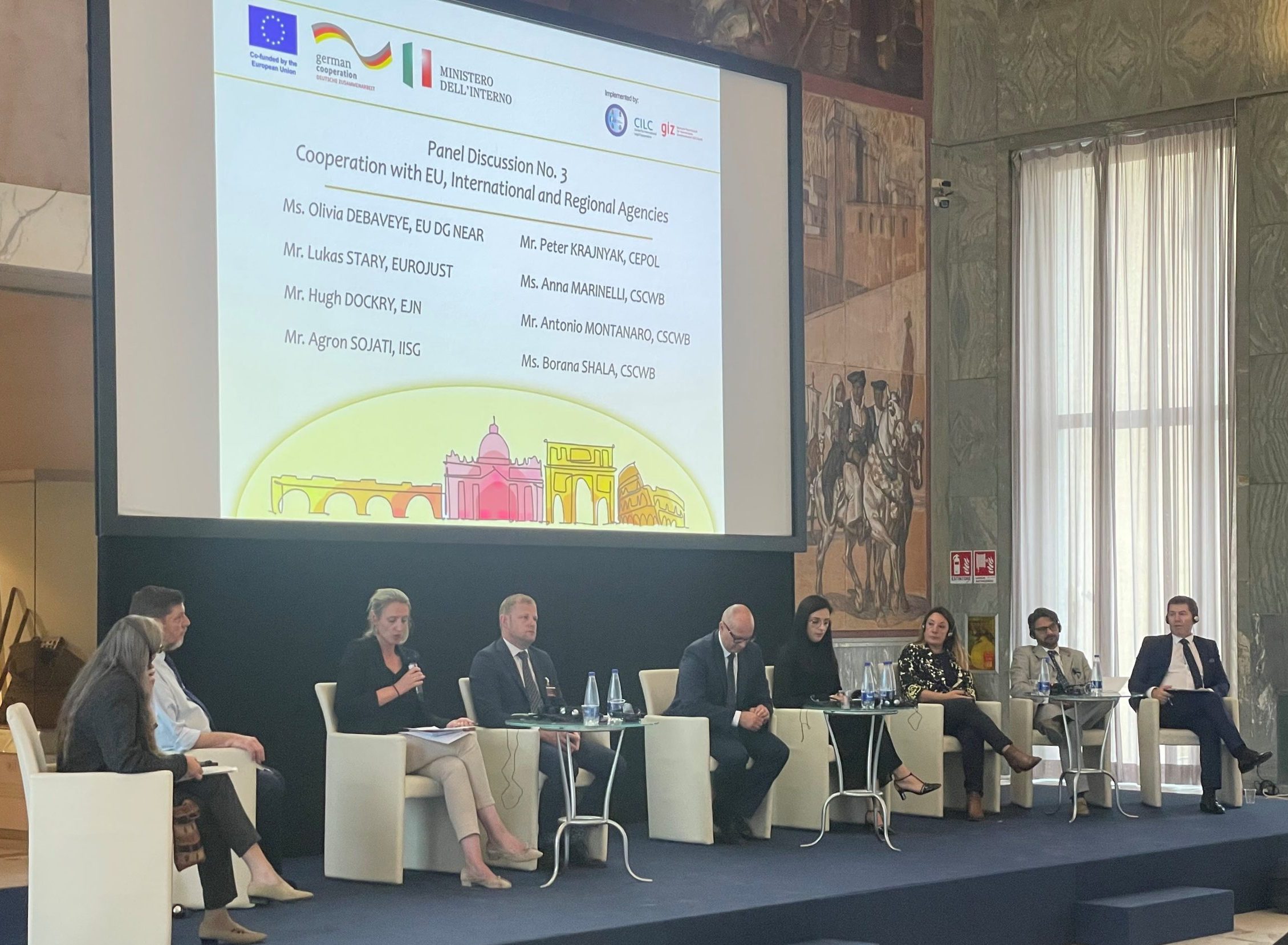 The IISG Secretariat was invited to take part in the Closing Conference of Countering Serious Crime in the Western Balkans (CSCWB). The project concluded with a two-day closing conference held in Rome on 29 and 30 May 2023. The conference aimed to highlight the achievements, impact, and sustainability of the project, as well as foster cooperation amongst participating economies and international agencies.
Prefect Vittorio RIZZI, Italian Deputy General Director of Public Security – Criminal Police Central Director, emphasized the importance of countering serious crime and the role of international collaboration in achieving this goal. Ms. Olivia DEBAVEYE, Programme Manager at the European Commission, addressed the audience, highlighting the significance of WBCSC project in the context of European cooperation.
Mr. Oliver JANSER, CSCWB Project Manager from Deutsche Gesellschaft für Internationale Zusammenarbeit (GIZ), welcomed the attendees on behalf of the project management team.
The panellists, consisting of heads of delegations, shared their perspectives on how the capacity-building efforts positively transformed their institutions. Discussions focused on the institutional-level changes in coordination and collaboration between the police and justice sector. Members of the Western Balkans delegations, specifically those from the police forces and WBCSC (Western Balkans Countering Serious Crime) team members, shared their insights on project achievements. Each panellist highlighted the positive impact of the project on their respective economies' law enforcement capacities.
Representatives of various EU, international, and regional agencies, along with project partners and WBCSC (Western Balkans Countering Serious Crime) component leaders, engaged in discussions about their collaborative efforts. The panellists discussed the importance of coordination between different agencies to effectively counter serious crime in the Western Balkans.
In his presentation, IISG Head of Secretariat Mr. Agron Sojati pointed out that today we have better coordination of the Western Balkans with international partners. He mentioned that IISG mission is to map the regional needs in three pillars, WBCTi, regional Needs WBCSCi, regional Needs WBBSi, and regional responses in three pillars, including a regional IISG Database with the ongoing projects.