IISG Secretariat at the Sixth Regional (Jumbo) Security Coordination Conference, Paris 06 December 2021

IISG Secretariat at the Sixth Regional (Jumbo) Security Coordination Conference, Paris 06 December 2021
Monday, 06 December, 2021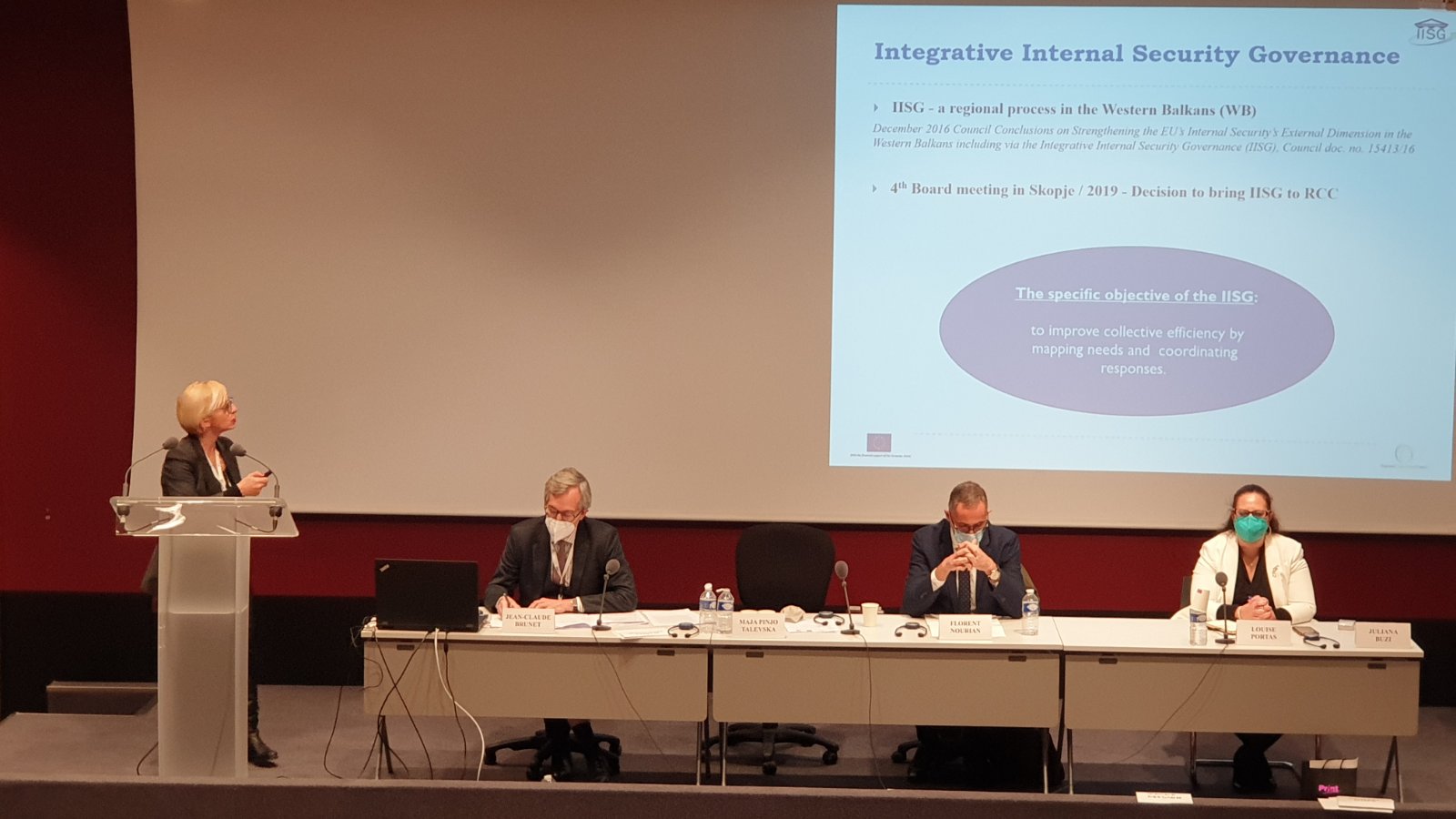 The Sixth Jumbo security conference, held in Paris on 06 December 2021, was organized by the Regional Cooperation Council (RCC) Secretariat in cooperation with the French Ministry for Europe and Foreign Affairs and the Institute for Higher National Defense Studies (IHEDN). The IISG Secretariat was represented by the Head of the IISG Secretariat (HoS), Mr. Agron Sojati and senior expert/Deputy Head, Ms. Maja Pinjo Talevska.
The conference was structured in four sessions with the aim to discuss the threats and challenges in security in the Western Balkans in terms of regional security cooperation, radicalization and violent extremism, illegal migration flows and their impact on the security of the Western Balkans and Europe, as well as to discuss the situation regarding the organized crime and illegal trafficking activities.
The conference provided an opportunity for more than 80 participants from the WB partners, France and other EU member states, as well as the European Commission, Frontex, IOM, MARRI, UNODC and other regional and international organizations to present and discuss the newest developments in the area of security.
The Head of the IISG Secretariat, Mr. Sojati was a moderator of Session 2: Radicalization and violent extremism, while the senior expert/deputy Head, Ms. Pinjo Talevska was invited as a panelist in Session 4: Organized crime and illegal trafficking activities.
The discussion on the session 2 concluded that the cooperation among agencies to receive and treat information on time is important. The online platform needs to be regulated and professionally monitored. De-radicalisation and disengagement are to main elements for the radicalised and terrorists inmates. Western Balkan partners are in a good path to understand and respond to the threat. The regional cooperation and assistance from EU member states and EU agencies was crucial and very much necessary for the future.