IISG Support Group meeting in Vlore, Albania

IISG Support Group meeting in Vlore, Albania
18/03/2022 @ 09:00

-

19/03/2022 @ 17:00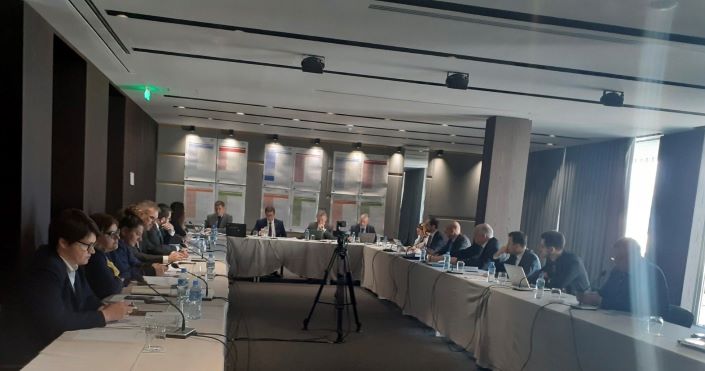 The IISG Secretariat organized the IISG regional Cross-cutting Support Group Meeting, on the 18th and 19th of March 2022 in Vlore, Albania.
The meeting was organized in hybrid mode. The representatives from WB partners and international representatives from the Support Group, such as Austria, Slovenia, UK, Italy, GIZ (online) MARRI, UNODC, Frontex, DG NEAR (online), RCC Political Department, JCP, and Guardia di Finanza representatives participated in this meeting.
The IISG Secretariat referred to the conclusions of the 5th IISG Board meeting, and the call from the European Commission on the Secretariat and Support Group to deploy all resources to deliver the first needs mapping product.
The participants received the timetable of IISG processes from November 2020 to April 2022, a presentation on methodologies, draft reports on the needs mapping, and the annual work plan proposal. In addition, the IISG Secretariat explained that the work to populate the Database has started for all 3 Pillars.
The meeting concluded that the IISG Board members will receive proposals for approval for draft documents such as biennial needs mapping and reports on the needs for each pillar.
The WB Partners agreed that the IISG Database meetings can take part on each capital in order to populate the IISG database with information on the ongoing projects and agreed to bring to the 6th IISG Board Meeting, the first report on the IISG Database.
The meeting served as an excellent experience for all representatives from the WB and International partners, to meet and have a joint discussion on methodologies and reports.