Regional Conference of Directors of Police Services in Skopje, North Macedonia

Regional Conference of Directors of Police Services in Skopje, North Macedonia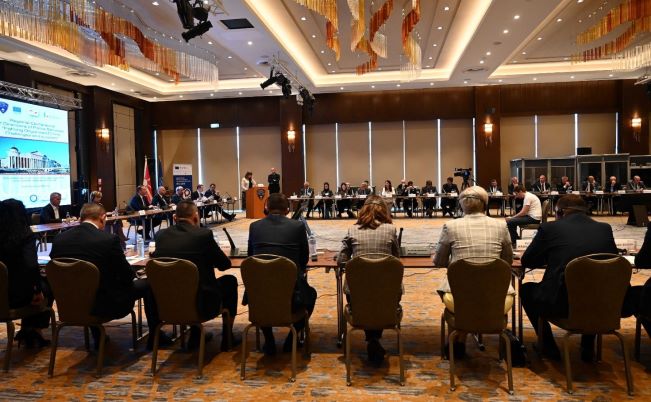 The IISG Secretariat was invited to participate in the Regional Conference of Directors of Police Services on the topic "Fighting Organized Crime: Challenges and support", held in Skopje on the 5th and 6th of May 2022, event which was organized on behalf of the Bureau for Public Security within the Ministry of Interior of the Republic of North Macedonia, together with the Italian Ministry of Interior – Public Security Department and the Countering Serious Crime in the Western Balkans IPA 2019 Project.
The Conference aimed to share and identify the challenges of the region in addressing organized crime, but primarily to coordinate and channel the international support the Western Balkan region receives from the international community in the specific areas of policing.
The Conference was attended by Directors of Police Services of the Republic of Bulgaria, Greece, and Italy. The event served, to host the first official visit of the Executive Director of EUROPOL, Mrs. Catherine De Bolle, with all Western Balkan Chiefs of Police.
The IISG Secretariat was represented by the Senior Expert/Deputy Head, Ms. Maja Pinjo Talevska, who delivered a presentation on the perspective on Coordination of International Support to the Regional Police Cooperation – presentation of the role and benefits of the IISG mechanism.
Ms. Pinjo Talevska provided information on the background of the IISG, its mission and vision, and the Governance structure and pillars of the IISG. She provided information on the membership and the process of expansion, elaborating on the role of the members in the IISG Governance structure and providing detailed presentations on the products of the IISG process such as Biennial Needs mapping, Annual Response Mapping, Mapping Support – IISG Database and the process of Analysis and reporting.