CEPOL WB PaCT Regional Level OTNA Validation Workshop in Budapest, Hungary

CEPOL WB PaCT Regional Level OTNA Validation Workshop in Budapest, Hungary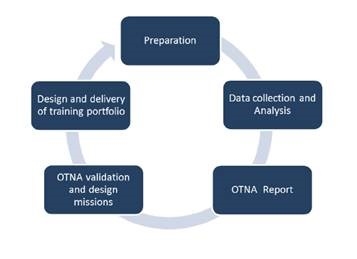 The Head of the IISG Secretariat, Mr. Agron Sojati, contributed to the latest developments of the IISG Process at the CEPOL WB PaCT Regional Level OTNA Validation Workshop, held in Budapest on the 5th and 6th of May 2022.
The purpose of the meeting was to ensure that OTNA conclusions at the regional level are consistent and coherent with beneficiary-level results of quantitative and qualitative analyses and to reflect the cross-border nature of respective crime phenomena. The IISG is recognized by CEPOL as a crucial partner in facilitating law enforcement cooperation and capacity building in the Western Balkans region.
The purpose of the OTNA validation phase was to ensure the appropriate validation of the training needs with senior management staff of partners addressing the subtopics, proficiency, learning methodology and number of officials to be trained. During the meeting, the participants shared the experiences aimed at clarifying issues resulting from the data collection and gathering additional elements where needed.
The meeting was attended by regional actors that have an instrumental role in regional assistance for the law enforcement community of the Western Balkans, notably the Integrative Internal Security Governance, Countering Serious Crime Western Balkans, Council of Europe project, and Police Cooperation Convention for Southeast Europe. For the purpose of this OTNA, CEPOL engaged the support of the network of Single Point of Contact (SPOC), Capacity Building Single Points of Contact (CARASPOCS), and CEPOL National Contact Points (NCPs) along with participants from the Western Balkans beneficiaries.
Mr. Sojati, as a key panelist during a presentation, explained the process of needs mapping and findings of the needs mapping exercise, especially in regards to the Training Filter for all three IISG Pillars: Pillar 1 – The Western Balkan Counter-Terrorism initiative (WBCTi), Pillar 2 – Western Balkans Counter Serious Crime Initiative (WBCSCi), and Pillar 3 – Western Balkans Border Security Initiative (WBBSi).