Regional Network of National CT-PCVE Coordinators (RNNC) of the WB6 in Tirana, Albania

Regional Network of National CT-PCVE Coordinators (RNNC) of the WB6 in Tirana, Albania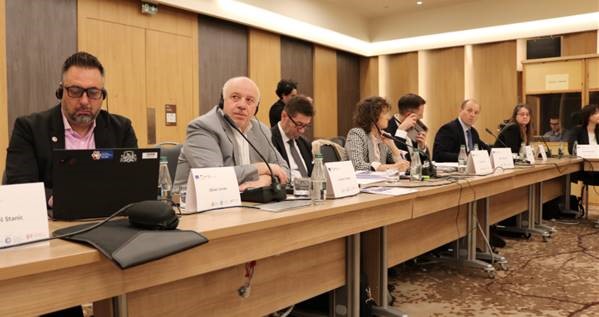 The Head of the IISG Secretariat, Mr. Agron Sojati, participated in the latest developments of the IISG Process in the regional meeting of the National Coordinators CT-PCVE of the Western Balkans, which was held in Tirana on the 20th of April 2022.
During the meeting, the participants shared the experiences among the Western Balkans countries and the continuous process of cross-border cooperation, to fight terrorism and organized crime, within the framework of rehabilitation and reintegration processes of returned individuals from conflict zones.
The meeting was attended by the regional security and counter-terrorism advisor of the EC, national coordinators for PCVE, representatives of ministries of Security/Interior of WB Partners, and the International Organization for Migration (IOM).
Mr. Sojati, presented IISG's mission, its structure, its members, and its achievements. During the presentation, Mr. Sojati explained the process of needs mapping and the findings of the needs mapping exercise especially in Pillar 1 – The Western Balkan Counter-Terrorism initiative (WBCTi). He explained that the WBCTi is the first pillar of the IISG in the Western Balkans, which was later complemented by the other two pillars, such as Pillar 2 of "Combating Counter-Serious Crime initiative" and Pillar 3 of "Border Security". The Western Balkan Counter-Terrorism initiative (WBCTi) is an EU-supported effort to respond to the developments related to Terrorism, Violent Extremism, and Radicalization phenomena in the Western Balkans by maximizing the potential of Regional Cooperation policy and by merging the efforts of all relevant security actors in this area of policy development in an efficient and sustainable manner.