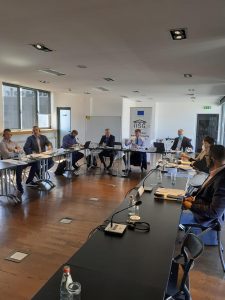 Based on the conclusions from the 5th IISG Board meeting held on 2nd of February 2021, the IISG Secretariat organized in Belgrade on the 24th and 25th of March 2021 a meeting with Western Balkan 6 (WB6) and IISG Support Group (SG) members for Pillar 3.
The IISG Secretariat discussed the needs mapping templates on Pillar 3, with the participation of Support Group members, such as: Western Balkan Six, Italy, Austria, MARRI, DG NEAR, DG HOME, OSCE Mission to Bosnia and Hercegovina, JCP, FRONTEX.
The conclusion of the Meeting was that WB6 agreed on the needs mapping template on Pillar 3 WBBSi, based on the draft template proposed by IISG Secretariat. The agreed template will serve to have the initial material from WB6 Partners in regards to the needs for border security. The IISG Secretariat will prepare the draft report on needs mapping for Pillar 3 and convoke another WG meeting to elaborate the findings.
It was agreed that the coming meeting for Pillar 3 to elaborate and decide on the first draft on MapNeeds report, that will be held on May2021.
Support Group Meeting on WBBSI, Belgrade 24-25th of March 2021