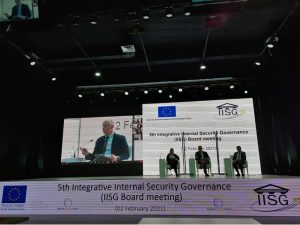 On the 2nd of February 2021, the 5th  Integrative Internal Security Governance (IISG) Board Meeting  (online mode) took place in Sarajeva, Bosnia y Herzegovina, chaired by Mr. Maciej Popowski, Acting Director-General for Neighborhood Policy and Enlargement Negotiations, DG NEAR,European Commission, Mr. Olivier Onidi, Deputy Director-General for Security, Directorate-General for Migration and Home Affairs, Ms. Majlinda Bregu, RCC Secretary General, Mr. Amer Kapetanovic, Head of Political Department of the RCC, IISG Head of Secretariat (HoS) Mr. Agron Sojati  and the participation of six Western Balkan partners represented by their respective Ministers of Interior: Mr. H.E. Bledar Çuçi, Minister of Interior, Albania; Mr. H.E. Selmo Cikotic, Minister of Security, Bosnia and Hercegovina; Mr. H.E. Agim Veliu  Minister of Interior, Kosovo; Mr H.E. Sergej Sekulovic, Minister of Interior, Montenegro; Mr. H.E. Oliver Spasovski, Minister of Interior, North Macedonia; Mr H.E. Milosav Miličković, State Secretary, Ministry of Interior, Serbia;
The IISG HoS, Mr. Sojati, presented the state of the play for IISG and the work conducted by the IISG Secretariat from the official start with its operability until the Board meeting of 2nd February 2021.
Mr. Popowski expressed his beliefs that the meeting has set a good basis to continue the joint work regarding security. He also encouraged the region to continue and step up the open cooperation.
He pointed out that the region needs to use the momentum gained to speed up concrete progress on the needs and response mapping as much as possible.  In this perspective, the Commission calls upon the Secretariat and Support Group to deploy all resources to deliver the first mapping product within 6 months of this meeting.
All the IISG Board members (Ministers of Interior and/or security) expressed their support to the IISG Action and belief considering it as a good platform to encourage the regional cooperation in security on all three pillars.
The discussions from the meeting have concluded that the Board: Adopts the Methodology for development of IISG Biennial Needs Mapping Reports, Adopts the Methodology on approving new members into the IISG, Adopts the Annual 2021 work plan and approves as new IISG Members such as France, Italy, UK, OSCE, GIZ, SEESAC and Migration Asylum Refugee Regional Initiative (MARRI);